If you're an entrepreneur, creator or small business owner, then you already know creating content is part of your job description. But that doesn't mean you started out wanting to be a content creator—or that it comes easy. Even as someone with a graduate degree in journalism, I have plenty of days where I sit staring at that little blinking cursor, willing it to move along a page of written content. And I find it exponentially harder to write about myself or my work. You too?
So why do we bother? The whole reason to create content is to bring more traffic (more eyes) to your work. You want more people to find you as they are searching for a specific answer to their challenge. You can help them solve it!
It's a valid goal, and yet it can feel frustrating, overwhelming and like you're constantly winging-it. (That's why I'm such a believer in a clear content strategy and defined brand voice. It makes everything easier!) I consistently rely on these seven free content creation tools to make my content that much easier to assemble. Because as copywriter Ray Edwards famously said, "Great copy isn't written. It's assembled." And I'd say that also applies to the pillar blog post, podcast outline or YouTube script you're working on to attract and engage your ideal audience.
Save these 7 free tools for content creation
Make your next content batching session that much easier—and your next published piece that much better.
1. Tool for finding content ideas
If you have no idea what to write or teach about, rest assured—yes, there is a tool for that. First, always consider your own audience. What questions do you get asked? What do you need someone to know before working with you or to move someone through your process?
A photographer, for example, might create a post on how to choose outfits for your next family photo shoot to answer a question their clients likely have and help them execute their best work with a cohesive look.
Start keeping a list of any questions you're asked as potential content ideas.
If you don't have a specific question in mind, try plugging a more general topic in Answer the Public to see what questions people commonly ask on that topic. A search of "flower arranging" (see image) resulted in these common questions that could become the basis for a content idea:
Where to buy flower arrangement supplies
Where can I learn flower arranging
Flower arranging techniques
How to arrange flowers in a vase
How to keep flowers fresh before arranging
How to put a flower arrangement together
Also look at the "comparisons" list, which can sometimes spark an interesting idea. In this case, two that jumped out at me as something to look into if it made sense for my business are "flower arranging and afternoon tea" and "flower arranging and mental health."
Next, try searching some of your results in Google and Pinterest to see related searches. A common related Google search for "flower arranging techniques" (see above) is "flower arranging tips for beginners," which with a bit of specificity and personalization could easily become a piece of content for a florist.
2. Tool for keyword research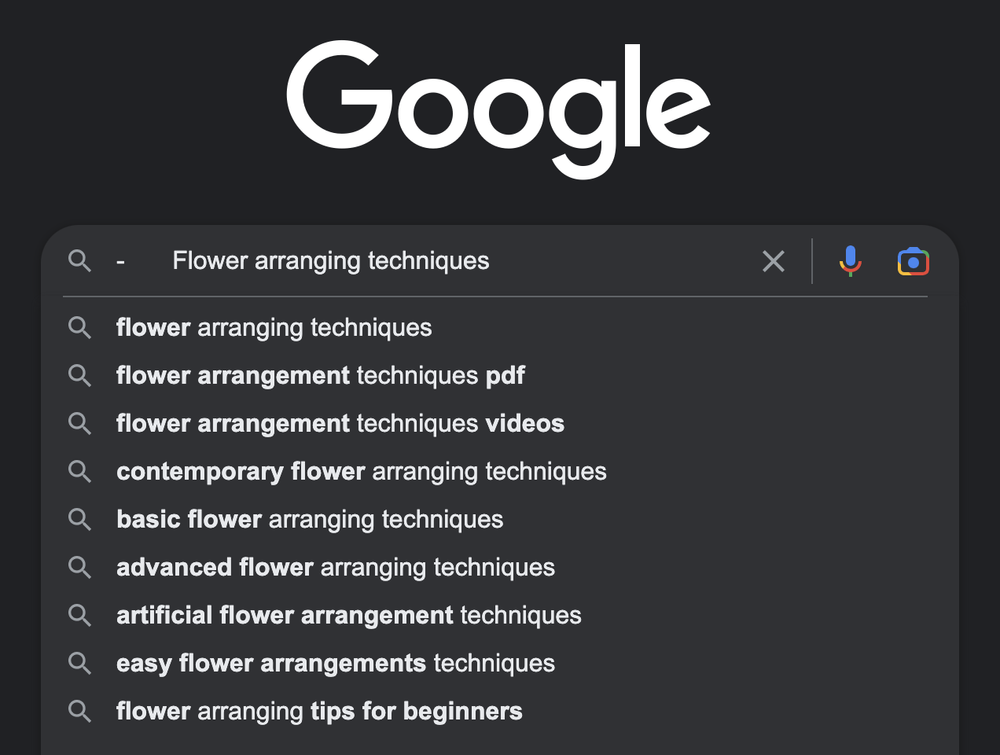 With your initial seed of a content idea in mind, the next step is to confirm it is something being searched for and define a primary keyword—the words or phrase people type into Google—for your content. Your goal in considering search engine optimization (SEO) isn't to write a keyword-stuffed post for Google but rather to write content for the exact people who are searching for you on Google. The keywords you use help Google make sense of your content and therefore show it to the right people.
So much goes into SEO strategy, but let's focus in on verifying a potential content idea keyword is being searched for and won't be too competitive for you to rank for. Ubersuggest will be your best friend for keyword research.
Let's take the above example topic of "flower arranging." You can see in the results pictured from Ubersuggest the search volume is extremely high at 49,500 searches per month—so high it'll be hard to rank for that general term. If we search "flower arranging supplies," however, the search volume is still decent with less difficulty (or competition).


A good keyword has:
High volume—an average monthly search volume between 50-3,000
High CPC (cost per click)—how much you would pay Google to be seen as an ad (higher = more valuable)
Low SEO difficulty—the estimated competition in organic search (lower = less competitive)
Scroll to the keyword ideas—and you can see related options that might provide a new idea or help you better define the keyword(s) to build your content piece around. In this case, maybe you decide to create content around "How to pick grocery store flowers for arrangement" or "3 essential floral arranging supplies you need at home."

When you write, include that primary keyword in your main headline and the first paragraph. Any alternate keywords can be included in your subheads—and may even give you ideas for additional key points to address in your content.
Set aside a little time every couple of weeks or once a month to research and add to your potential content ideas list a collection of keywords that could work well for your business.
3. Tool for improving your headline

We know from Copyblogger that eight of 10 people—a staggering 80% of your audience—will only see your headlines and nothing else. Only two of those 10—20%—will read your article.
That means you need a compelling headline that draws someone in and makes them want to know more. The Headline Analyzer from CoSchedule is one of the most popular tools for writing better headlines considering what is most likely to result in more social shares, SEO value and traffic.
Input your headline (see image) and the tool will give you a report of quality metrics with an overall headline score from 0-100. Shoot for a score of 70 or above and follow the analyzer's tips for improving your score, such as finding a balance among common, uncommon, emotional and power words.
A few additional tips for a great headline:
4. Tool for proofreading

If you want to write with confidence, install Grammarly.
The tool offers real-time suggestions to strengthen your writing, and checks your spelling, grammar and tone along the way. It'll catch typos, missing punctuation or commonly confused words so you don't end up distracting your audience.
You'll have a second set of (AI-powered) eyes on your content, which means your writing will be more clear, more engaging and more effective.
5. Tool for readability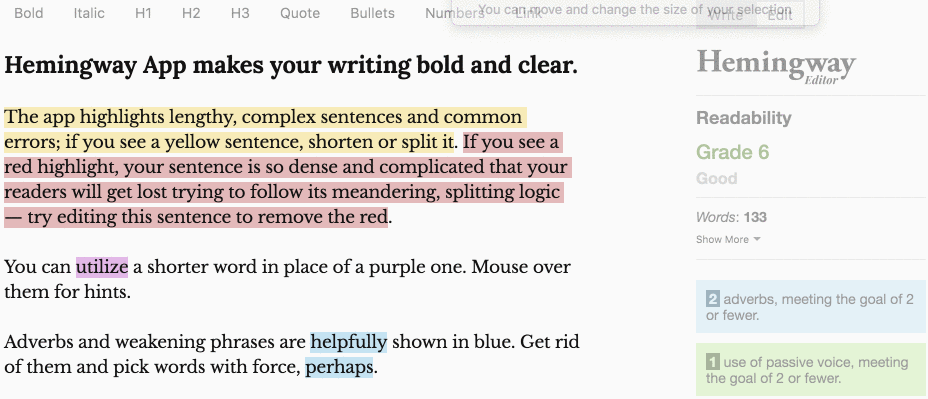 To take things a step further and ensure even more optimal readability, input your copy into the Hemingway Editor.
The average American reads at an eighth-grade level. Beyond that, studies have shown people scan web pages, reading only about 18% of what's on the page.
To improve your readability, it's a good idea to:
Keep sentences at 20 words or less
Use shorter words when possible
Limit adverbs
Avoid using jargon
Add transitions
Use subheadings to split up content
The tool will check your content's reading level, sentence complexity, use of passive voice and more, offering suggestions to make your writing bold and clear.
6. Tool for managing your tasks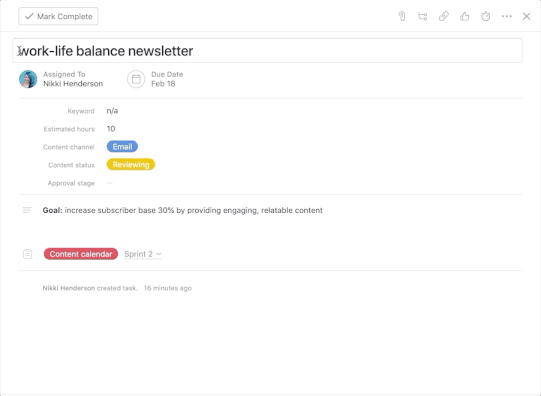 Now that I use a project management tool to manage my to-do list, I'm not sure how I ever existed without it.
Many options are out there, but Asana is my tool of choice for keeping track of my calendars, task checklists and more, including my content workflows. It allows an overview of everything I need to get done as well as the detail needed to complete it.
And who doesn't want to get more productive? Then you can:
Stop feeling stressed and overwhelmed
Stop scrambling to meet your deadlines
Start hitting your biggest goals
I will admit, however, when I first started using Asana, the blank canvas was a bit intimidating. I took this course to get set up and organize my life and work within the tool and it was a game-changer for my productivity—and to lessen that scattered, what-am-I-supposed-to-be-working-on feeling.
7. Tool for organizing your ideas
We've gone through my favorite tools for generating content ideas, making your content more searchable, writing better headlines, proofreading, improving readability and managing your content workflow—what about the content itself? For content management—from ideating, to planning and tracking drafts and evergreen items to repurpose, I use Airtable.
The tool is free to use and, like a "spreadsheet on steroids," can be customized to hold any kind of data just about any way you can imagine. Over time, I've developed my own Content Dashboard in Airtable that houses my strategy overview, my Idea Bank, Blog, Podcast and Email content, from concept to publication. If you're interested in seeing more inside how I use Airtable, let me know!
---
If we haven't had the chance to *virtually* meet yet, hi! I'm Christin—professional editor and content strategist (aka word wingwoman) here to simplify content for creatives. If you want to show up consistently online, this NEW 2-week email series will show you how to save time creating content and feel less overwhelmed doing it with an annual structure to follow. It's 100% free—you'll be making better content (with less actual content) in no time! Get on the list for CONTENT CAMP.